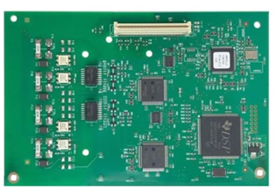 TOPIC
AVAYA IP500 UNIVERSAL PRI SINGLE TRUNK MODULE.
PART CODE
700417439
DESCRIPTION
The Avaya IP500 PRI 1 Trunk Module provides a single PRI/T1 trunk port for your Avaya IP Office system. This module must be fitted to an IP500 base card.
FEATURES
Provides 1 PRI Trunk Port
Supports the following PRI line types. The required mode can be selected within IP Office Manager by right clicking on the line icon and selecting Change Universal PRI Card Line Type and then selecting the required line type: E1 PRI (30B+D channels per port), E1R2 PRI (30B channels per port), T1 robbed bit (24B channels per port) or T1 PRI (23B+D channels per port).
Physical trunk connection is via port 9 of the host IP500 base card
Supports 8 unlicensed B-channels. Additional B-channels, can be added via optional license. 
COMPATIBILITY
Avaya IP Office Release 4.1 and higher
Maximum 4 per Control Unit
The Avaya IP500 Universal PRI 1 Trunk Card must be fitted to one of the following IP500 Base Card's:
Avaya IP500 Digital Station 8
Avaya IP500 Phone 2
Avaya IP500 Phone 8
Avaya IP500 ETR6
Avaya IP500 TCM8
Avaya IP500 VCM32 V1/V2
Avaya IP500 VCM 64 V1/V2