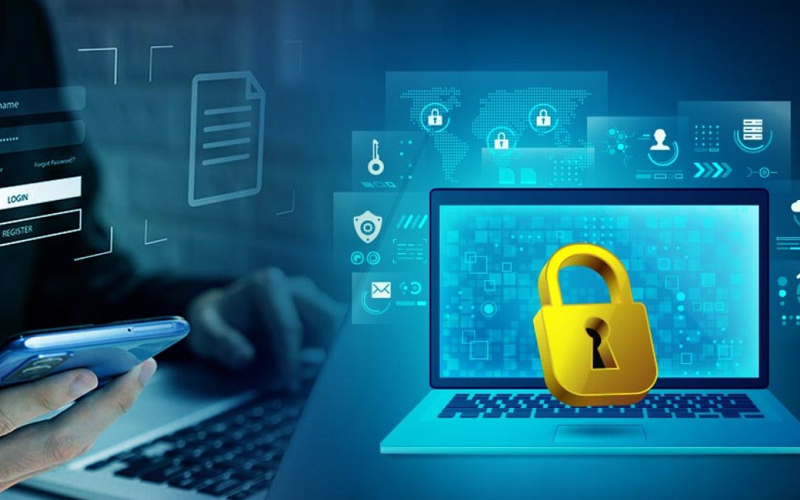 Why Cybersecurity–A cyberattack can disrupt your business operations, causing downtime and loss of productivity. Ensuring that your company has a robust cybersecurity strategy in place helps maintain the continuity of your operations and minimizes the potential for costly interruptions. Cybersecurity guards from the following attacks:
1.Ransomware-Applications installed on a computer through an untrusted source or by clicking on unverified links. Ransomware is a type of malware that encrypts personal information and docs demanding a ransom amount to decrypt such information or files. Once the files are encrypted, ransom text files are available to the victim explaining how to make the payment in order to decrypt the files. for example-Tesla crypt Ransomware of 2015 affected thousands of gamers all over the world.
2.Virus-Virus is a computer program that replicates itself on execution. they alter different computer programs by attaching its own code. They get attached to different files and programs called host programs by inserting their code. If the attachment succeeds then the computer is termed as infected with virus.
3.Trojan-Trojan horse program is a program which disguises itself as a legitimate program but harms the system once installed. They hide within the attachment and emails and transfers from one system to another. They create backdoors into a system to allow the cybercriminals to steal our information.
4.Phishing Attack-It is type of social engineering where fraudulent messages sent to the target with a promise of trusting source. It is basic purpose is to trick the victim in revealing sensitive information like password and payment information. Its based on the word fishing which works on the concept of baits.
5.Smishing-Attacks which are done through messages are called smishing.
6.Cross-Site Scripting (XSS) -These attacks are a type of injection, in which malicious scripts are injected into otherwise benign and trusted websites. XSS attacks occur when an attacker uses a web application to send malicious code, generally in the form of a browser side script, to a different end user. Flaws that allow these attacks to succeed are quite widespread and occur anywhere a web application uses input from a user within the output it generates without validating or encoding it.
7.Keyloggers– or keystroke loggers, are tools that record what a person types on a device. While there are legitimate and legal uses for keyloggers, many uses for keyloggers are malicious. In a keylogger attack, the keylogger software records every keystroke on the victim's device and sends it to the attacker. An infamous keylogger attack uses a type of malware called DarkHotel. Hackers target unsecured Wi-Fi at hotels and prompt users to download the software. Once downloaded, DarkHotel acts as a keylogger and reports keystrokes to the hackers. After a certain number of recorded keystrokes, DarkHotel deletes itself from the device. That way, it doesn't remain on a device for too long and can avoid detection. It's important to protect yourself from keylogger attacks used by malicious users. Because keyloggers can record and quickly identify sensitive information, they are a significant threat to cybersecurity. To protect yourself, it's important to know what keyloggers are, how to prevent an attack and how to remove a keylogger if you are attacked.
Hackers can steal credit card information and make unauthorized purchases. Malicious users can log in to your email accounts and steal information or scam your contacts. Hackers can log in to your bank accounts and transfer money out. Malicious users can access your company's network and steal confidential information.
According to the Federal Bureau of Investigation, nearly every national security threat and crime problem that they face includes a cyber component. A common threat that the FBI sees across a variety of industries is a business email compromise. In this kind of attack, threat actors send an email that looks like it's coming from a known contact.  Then, they use social engineering and network intrusions to infiltrate companies.
One example of a business email compromise is when a criminal sends a message that appears to come from a known vendor. The message might include an invoice with a changed mailing address. If you don't recognize the fraud, you could send payments to the wrong recipients. Cybercriminals with access to your accounts from keylogger attacks can be more successful because they can better imitate messages from vendors.
Hackers can insert malicious code on a web page. When you click an infected link or visit a malicious website, the keylogger automatically downloads on your device.
Phishing. Hackers can use phishing emails, which are fraudulent messages designed to look legitimate. When you click an infected link or open a malicious attachment, the keylogger downloads on your device.
Social engineering. Phishing is a type of social engineering, which is a strategy designed to trick victims into divulging confidential information. Cybercriminals might pretend to be a trusted contact to convince the recipient to open an attachment and download malware. We need to take following steps in order to safeguarding our interests:
Use a firewall. A firewall is a security system that helps monitor network traffic for suspicious activity. Firewalls can help prevent keylogging by intercepting data that a keylogger attempts to send through the internet. OPERANT serves all the seven Layers of Cybersecurity; Mission-Critical Assets, Data Security, Endpoint Security, Application Security, Network Security, Perimeter Security and The Human Layer. Solutions; powered by next generation firewalls:
Hardware Next Generation Security Firewalls
VM based Virtualized Firewalls
Containerized CN based Firewalls
Cloud based Firewalls
AI based security posture dashboard for Next Generation Firewalls revolutionize network operations and provide scenario of your firewall's health and security effectiveness
SD-WAN solutions
Central Management
Network Access Control (NAC)
Use a password manager and update passwords frequently. A password manager stores passwords from all your accounts so you only need to remember the master password. With a password manager, you can use stronger passwords and update them frequently because you don't need to remember them. Update your system frequently. System updates to your operating system and applications keep malicious users from exploiting known issues. Make sure that you install updates as soon as they are available to keep your system protected.
Use antivirus software. Antivirus software prevents malware and can identify and remove malware faster than you can manually.
Here OPERANT helps and cater to its customers by undertaking the following solutions:
Email Security Solutions.
Vulnerability Management.
Data leakage and prevention.
Mobile device Management.
Single Sign On (SSO) Solution.
Endpoint Security.
Rights Management.
WAN Optimization.
Data Protection, Backup and Archival.
Cloud Application Protection.
What is a Spyware–Spyware is a malicious software that enters a user's computer, gathers data from the device and user, and sends it to third parties without their consent. A commonly accepted spyware definition is a strand of malware designed to access and damage a device without the user's consent. Spyware collects personal and sensitive information that it sends to advertisers, data collection firms, or malicious actors for a profit. Attackers use it to track, steal, and sell user data, such as internet usage, credit card, and bank account details, or steal user credentials to spoof their identities.
Spyware is one of the most commonly used cyberattack methods that can be difficult for users and businesses to identify and can do serious harm to networks. It also leaves businesses vulnerable to data breaches and data misuse, often affects device and network performance, and slows down user activity.
The term "spyware" first emerged in online discussions in the 1990s, but only in the early 2000s did cybersecurity firms use it to describe unwanted software that spied on their user and computer activity. The first anti-spyware software was released in June 2000, then four years later, scans showed that around 80% of internet users had their systems affected by spyware, according to research by America Online and the National Cyber Security Alliance. However, 89% of users were unaware of the spyware's existence and 95% had not granted permission for it to be installed.
Types of Spyware
Attackers use various types of spyware to infect users' computers and devices. Each spyware variety gathers data for the attacker, with the lesser types monitoring and sending data to a third party. But more advanced and dangerous spyware types will also make modifications to a user's system that results in them being exposed to further threats.
Some of the most commonly used types of spyware include:
Adware: This sits on a device and monitors users' activity then sells their data to advertisers and malicious actors or serves up malicious ads.
Info stealer: This is a type of spyware that collects information from devices. It scans them for specific data and instant messaging conversations.
Keyloggers: Also known as keystroke loggers, keyloggers are a type of info stealer spyware. They record the keystrokes that a user makes on their infected device, then save the data into an encrypted log file. This spyware method collects all of the information that the user types into their devices, such as email data, passwords, text messages, and usernames.
Rootkits: These enable attackers to deeply infiltrate devices by exploiting security vulnerabilities or logging into machines as an administrator. Rootkits are often difficult and even impossible to detect.
Red Shell: This spyware installs itself onto a device while a user is installing specific PC games, then tracks their online activity. It is generally used by developers to enhance their games and improve their marketing campaigns.
System monitors: These also track user activity on their computer, capturing information like emails sent, social media and other sites visited, and keystrokes.
Tracking cookies: Tracking cookies are dropped onto a device by a website and then used to follow the user's online activity.
Cryptography is a milestone in Cybersecurity.
Cryptography
What is Cryptography-Cryptography is the science of Encrypting and decrypting information to prevent unauthorized access. The decryption process should be known to both the sender and receiver. Encryption is the primary route of employing cryptography using certain algorithm to jumble up the data. So its making normal readable text difficult to understand. Whereas the decryption is the reversing the encryption process to retrieve normal message. Both these methods forms the basis of cryptography.  Any data pre-encryption is called plaintext and encrypted data is called cyphertext. The key which is used to scramble the data is known as encryption key. The receiver again can reverse the encrypted data.
Ciphertext can't be read until it has been converted into plaintext (decrypted) with a key. The decryption cipher is an algorithm that transforms the ciphertext back into plaintext. The term cipher is sometimes used as a synonym for ciphertext. However, it refers to the method of encryption rather than the result.
Application of Cryptography-
1. SSL/TLS Encryption
2. Digital Signatures
3. Safe Online Banking
4. Secure Chatting Service
5. Encrypted emails
6. Crypto Currency
Categories of Cryptography-
1. Symmetric Encryption.
2. Asymmetric Encryption
3. Hashing
Symmetric Encryption-Single key for both encryption and decryption of data. Less secure than asymmetric but relatively faster. Both sender and receiver need to have the secret key.
Block ciphers-Plain text is broken into blocks of data and chained together post encryption.
Stream Ciphers-Plaintext is encrypted one bit at a time and encrypted individually.
AES-Advanced Encryption Standard is widely used symmetric Encryption.
DES-Data Encryption Standard.
Triple DES
Blowfish
Asymmetric Encryption-Public keys are used for encryption and private keys are used for decryption of information.
RSA Encryption-Designed by Ron Rivest, Adi Shamir, Leonard Adleman. Most valuable when encypting data in transit. Used with VPN services, Email transfer and messaging applications.
Historical Significance-Cryptography has been into practice for centuries.
Enigma Machine.
Developed and used by Nazi German armies in the world wars.
used to protect confidential information during transit.
Electromagnetic signals generate random alphabets.
Demo on Cryptography
Applications of Cryptography
Banking Applications to authentic ID and transactions.
Server/Data Center information can be encrypted at rest.
HTTPS Encryption will secure all round browsing. This is one important and basic feature of encryption.